Inclusive and Empowered Communities
KRIS educational support helped Eva back into society
Eva, a lifestyle coordinator, was part of the first KRIS Lifestyle Coordinator program in 2009. Read her story on how the program and education transformed her life, and what the support from KRIS meant to her.
In October 2009, I left an insitution I'd spent several years in and discovered KRIS. I had no idea what the organization was, but I was determined to never relapse into crime and abuse. I was ready to become stronger, and KRIS gave me that. While at first I thought I would only be involve in the organization for a short time, I ended up staying with KRIS for over 10 years – KRIS gave me more than I could have imagined.
In August 2016, I became one of the first participants in KRIS's work bringing education to those who struggle with addiction. When the program started, the opportunity seemed so big: I was getting the chance to receie an education while also helping those who struggle with deadly addictions.
That education took me on a learning journey, but it also took me on an inner journey. I found my way in college books and sticky notes, and even when I broke down, my peers and classmates gave me the strength to handle the work and the growth.
Thanks to that education and the time I spent at KRIS, I now work at Klara Outpatient Care in Falkenberg, where I am able to make a difference because KRIS made a difference for me.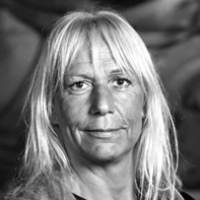 Eva Jeppsoon
KRIS Lifestyle Coordinator