Our collaborative and experienced leadership team lies at the heart of our integrated business structure. Guided by our Chairman, Bruce Grant and Chief Financial Officer, Rob Fiore, Applied Value's leaders in consulting, investing, and social impact work across disciplines.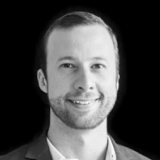 Alex Curiel is a Senior Manager at Applied Value ConsulAng's New York office. He has been with the firm since 2015.
Alex specializes in Raw Material Sourcing, Supply Chain OptimizaAon, Manufacturing Footprint, VA/VE and Sustainability Strategies. He has extensive experience leading ROI-focused projects for management teams at prominent companies in the Automotive OEM & Tier 1, White Goods, Renewable Energy, Elevators & Escalators and Construction industries across North America and Europe.
In addition to responsibility for delivering consulting projects, Alex also leads Sourcing Value, one of Applied Value Group's latest investment companies. Sourcing Value is the next generation of purchasing software, designed to facilitate strategy execution and drive savings for the unique requirements of all Raw Materials.
Alex speaks business proficient Spanish and holds a bachelor's degree in business administration from the Marshall School of Business at the University of Southern California.